Traditional
Think of your grandparent's wedding album and that will give you a sense of what to expect in traditional wedding photography. Unlike candid photos, you will be asked to purposefully pose for the camera and give a nice smile or look dreamingly at your partner. This style is more common in wedding day photography than pre wedding shoots, and although it may sound boring these are the kinds of photos your older relatives are likely to appreciate. Many photographers who specialise in other styles of photography can also take traditional couple and group shots so you can have the best of both worlds.
A very traditional pose ー by Hotel Greges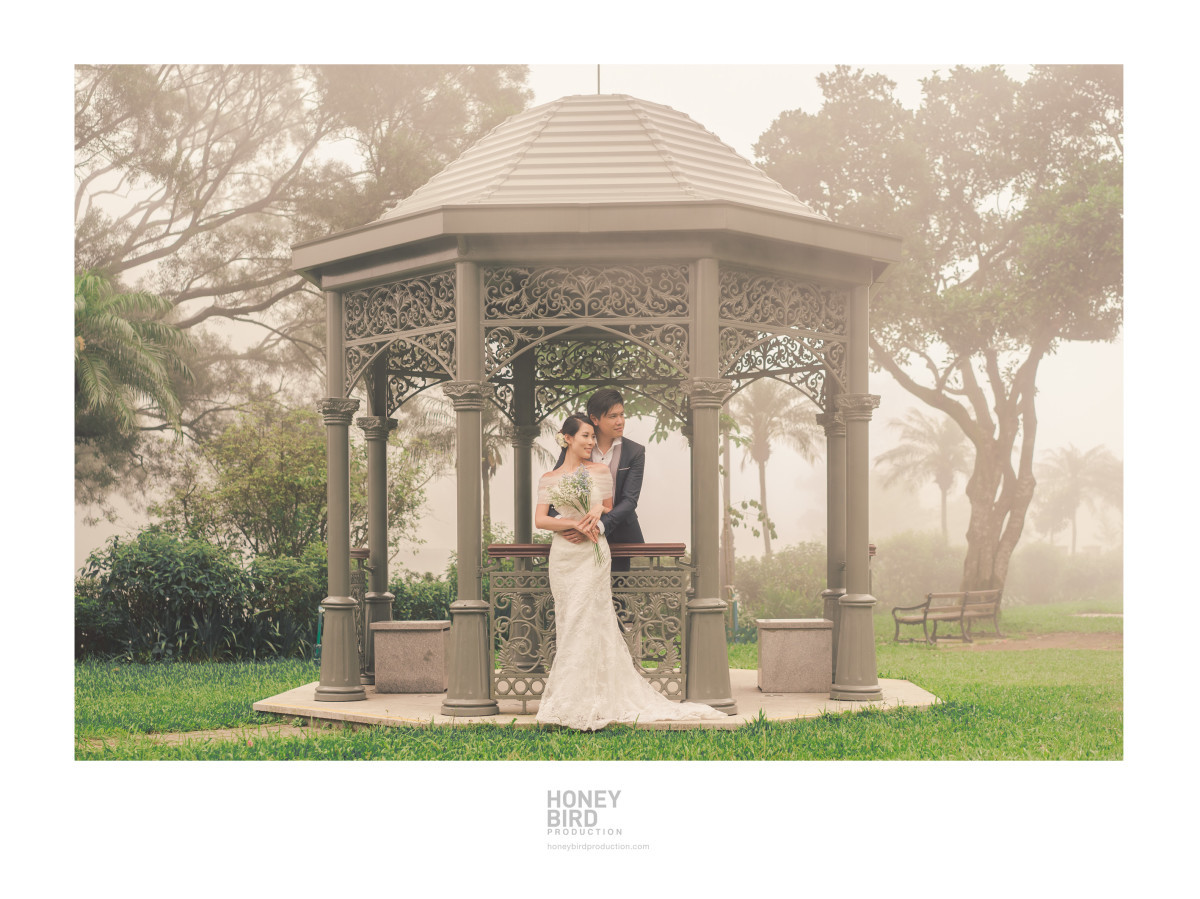 Documentary (aka Photojournalism)
Unlike the clearly posed photos favored in traditional style photography, the documentary (or photojournalistic) style is largely comprised of candid shots. This relaxed approach aims to capture couples "in the moment" with natural expressions. The photographer will attempt to be as unobtrusive as possible, giving you little to no direction and simply capturing moments as they happen. If you or your partner are a little camera shy, this could be a good option for you. Documentary photography is also a fun option for couples taking their photos overseas who want to preserve the memory of traveling together.
Fine Art
Fine art photo shoots are identifiable by unique camera angles and creative post processing. It is difficult to give an explicit definition as each photographer has their own unique artistic sense and style. Fine art photography is an excellent choice for couples taking their photos in buildings with interesting architecture, however, photographers who specialise in this style can use their creativity to find interesting lighting and lines in any setting that may not be apparent to the untrained eye.
Artistic angles and unique compositions are characteristic of fine art photography — Photo by Gold Hat Photography (Mark Kenji Condon)
Fashion
The fashion style of wedding photography is heavily focused on displaying the wedding attire. With strong poses, carefully set lighting and immaculate post processing, these photos feel as if they could appear in a magazine. This is a great style to try for pre wedding photography as you will be able to showcase your clothing in pristine condition and have much more time to get the perfect shot than on your actual wedding day. Most people never wear their wedding day ensemble again after the big day so why not preserve its beauty forever in a fashion style shoot?
Dramatic
If magnificent photos under a shimmering night sky set your heart aflutter, dramatic photography is the style for you. It is most distinguishable by its use of dark backgrounds, vast skies, and striking lighting. A telltale sign is the use of "off-camera flash" where the main light source emanates from a location separate to the camera. One popular off-camera flash technique is using an illuminated umbrella to create stunning silhouettes against a night sky. It takes great skill on the part of the photographer to achieve this style and the results are sensational.
Ready to find your style?